Kjeld Hjort snuppede pokalen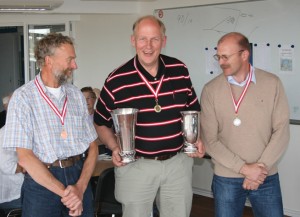 Danmarksmesterskabet 2009 i præcisionsflyvning blev afviklet i luftrummet omkring Skive Lufthavn i weekenden 6.-7. juni. Efter nogle år med svagt vigende interesse blev dette års mesterskab en succes med 16 deltagende fly og samtidig begunstiget af ganske fint flyvevejr til konkurrencerne både lørdag og søndag.
Bag mesterskaberne står DMU Sport, som i lighed med tidligere arrangementer i Skive rådede over perfekte rammer på lufthavnen – godt hjulpet af en gruppe ihærdige medlemmer af Skive Motorflyveklub. Der er tale om et ganske stort program, hvor alle deltagere på førstedagen gennemfører en landingskonkurrence med hver fire mærkelandinger. De bliver bedømt efter særligt skrappe regler, hvor det blandt andet giver dobbelt straf, hvis man sætter flyets hovedhjul før mærket på banen.
Begge dage skal deltagerne desuden lave en flyveplan med udregning af kurser og tider for en navigationstur, som de efterfølgende skal flyve. Hele turen foregår under skrap kontrol med en halv snes ukendte tidskontroller. Flyene medbringer GPS-loggere, hvis data efter turen indlæses i et program, der nøje afslører afvigelser i såvel tid som rute og udregner strafpoints derefter.
For at skille fårene yderligere fra bukkene har konkurrencens assistenter på forhånd været rundt på hele ruten og lagt et dusin mærker ud. Piloterne skal så markere i deres flyvekort, hvor de har set mærkerne. Endelig får piloterne hver otte fotos, som er taget på ruten på forhånd. De skal også markeres i kortet, hvis det lykkes at genkende stederne undervejs. Der er altså rigeligt at se til, og kun enkelte kommer hjem uden strafpoints for mærker og fotos, mens ingen klarer sig uden tidsstraf, der tildeles allerede efter en afvigelse på to sekunder på ruten.
Resultatet af konkurrencen i A-klassen var i år ualmindeligt jævnbyrdigt med 5-6 deltagere i en toppen. Der var store smil hele vejen rundt, da det endelig lå klart, at Kjeld Hjort have vundet – dog kun med spidsen af spinneren. Han har været med i mange år – og tit i toppen, men indtil nu aldrig snuppet den store pokal. Så gjorde det heller ikke noget, at han repræsenterer den den lokale flyveklub.
En udsædvanlig flot indsats kom også i hus for Anette og Jakob Blok, der repræsenterer Midtsjællands Flyveklub i Ringsted. De har også været med i mange år, men resultatet i år er blandt de allerbedste, som giver parret førstepladsen i kategorien med navigatør. I den samlede stilling blev det til pladsen som nr. 2., men tælles kun solopilotene med, kom Hans Birkholm ind andenpladsen efterfulgt af Hans Møller Hansen, begge fra Haderslev.