De unge kometer stjal fokus ved Sirius Air Rally
– men den gamle stjerne vandt til sidst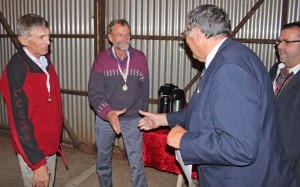 Sirius Air Rally 2012 blev en stor oplevelse for både erfarne og helt nye deltagere. Sædvanligvis kan konkurrencen være en prøvelse, der kræver god forberedelse af alle. Men Martin Mindorf fra Århus måtte 'ringe til en ven' for at nå frem til flyet, da han endnu er for ung til at have kørekort til bil. Men kammeraten Nicolai Mikkelsen hjalp gerne, og så kunne han jo ligeså godt tage med til Tønder med den kun 17-årige Martin – den yngste deltager i Air Rally i Danmark i 44 år – ved rorene.
Ungdommens gå-på-mod fornægtede sig ikke, da det unge mandskab valgte at stille op i A-klassen. De fleste nye prøver sig frem i B-klassen, hvor tidskravene til navigationsturen er mildere ligesom det skulle være lettere at finde motiverne til en serie fotos, som er taget på ruten på forhånd. Da dagens indsats var gjort op, havde Århus-mandskabet ganske vist samlet sig en del strafpoints på tiden, men ellers leveret en bemærkelsesværdigt flot indsats med en samlet 8. plads blandt de 11 deltagere i klassen.
Sirius Air Rallyet blev dog vundet af dansk konkurrenceflyvnings absolutte nestor, Hans Møller Hansen (Flymøller) fra Haderslev, der var med for 44. gang. Sidste år deltog han ikke, dels fordi han var vært på hjemmebanen, dels fordi han har været ramt af sygdom. Men nu er han – med Chr. Holst som navigatør – stærkt tilbage. Ikke alene på toppen, men med mindre end halvt så mange strafpoints end Kjeld Hjort på 2. pladsen.
Resultatet sættes i relief af, at forholdene var ganske krævende med en del blæst og turbulens. Så gælder det i særlig grad om at undgå at lave alvorlige fejl, og det måtte flere af de øvrige deltagere sande. Den flerfoldige mester, Allan Hansen, missede en tidskontrol, og den tidligere danske og nordiske mester, Kurt Gabs, præsterede at flyve uden om hele to tidskontroller meget tæt på den dansk-tyske grænse. Det afslørede GPS-trackingen efter flyvningen med ubarmhjertig tydelighed.
En anden deltager med GPS-problemer var Lago Laumark-Møller fra Haderslev, der ellers havde udfordret skæbnen ved at stille op i den lillebitte Druine D.31 Turbulent – OY-BMI. Turbulent var nøgleordet, men det lykkedes da for den tidligere danmarksmester at komme turen rundt og lave to pæne landinger. Desværre var der ikke plads i forruden til den medbragte GPS-tracker, og derfor var der ingen rute registreret, da han kom hjem. Ganske ærgerligt, fordi det kostede hele 3000 strafpoints.
B-klassen blev vundet af brødrene Martin og Morten D. Hansen fra Tønder Flyveklub, selv om de var med i et rally for første gang. Måske havde de fået et par staldfiduser fra deres far, Gunnar Hansen, der udover at være formand for klubben også er en ganske rutineret konkurrencepilot.
De unge Hansen-brødre forviste dermed direktøren for Sirius Air Rallys hovedsponsor, Sirius International Aviation Insurance, Hans J. Christensen, til andenpladsen. Han tager så at sige sin egen medicin, idet det primære formål med det årlige rally er at fremme flyvesikkerheden – i god samklang med forsikringsselskabets interesse i at forebygge uheld og ulykker i dansk flyvning. Den igen ubønhørlige resultattavle viste i øvrigt, at det var manglende skarphed i landingskonkurrencen, der kostede førstepladsen.
Det var som sædvanligt DMU Sport, der stod for den tekniske afvikling af konkurrencerne, men for mange af de lidt ældre piloter blev det også til et glædeligt gensyn med Tønder Flyveplads, hvor Tønder Flyveklub lagde rammer til. Herunder ikke mindst passende forsyninger af mad og drikke – og en meget hyggelig festmiddag i klubbens hangar.
Og hvad så med de unge deltagere fra Århus ? Ja, de nåede ikke med til middagen, fordi de lige skulle en tur til Hamburgs internationale lufthavn, inden de fløj hjem. Men de nåede da at sige, at de 'helt sikkert' er med næste gang, der er et arrangement med konkurrenceflyvning. De virkede lidt skuffede, da det først er næste år. Men sådan er det: Næste konkurrenceflyvning er DM 2013.