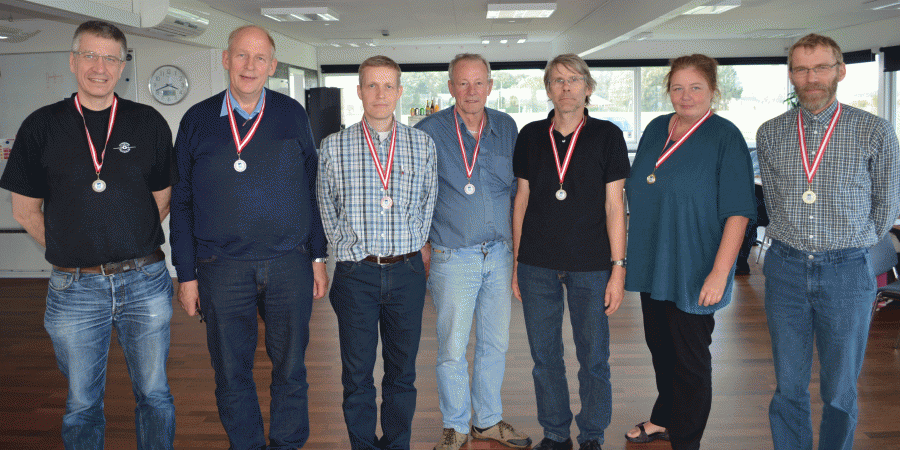 Det var en lille, men udsøgt skare, der holdt stand og insisterede på, at Sirius Rally 2014 skulle afvikles trods en uventet og uvant udfordring fra vejret tidligere på året. Datoen var den 4. oktober, som til gengæld bød på masser af solskin omkring Skive, der lagde lufthavn og landskab til rallyet.
Op ad dagen tog vinden til fra en sydvestlig retning, og med 25 knob i flyvehøjden omkring de 1000 fod blev det til en noget rystende oplevelse, hvor der var rigeligt at se til med at holde flyene på rette kurs og tid.
Alligevel viste resultaterne fra de medbragte loggere på navigationsturen, at der var ganske store afvigelser fra de planlagte tider for de fleste deltagere. Det gik også ud over koncentration om de fotos og mærker, der skulle genkendes undervejs, hvilket også afspejles i resultaterne.
Der flyves som altid i to klasser, hvor de mest rutinerede i Advanced kategorien skal passere de 11 tidskontroller undervejs inden for en afvigelse på +/- 2 sekunder for at undgå strafpoints. Det er praktisk taget umuligt, så det drejer sig om at komme tættere på end de andre deltagere. Samtidig skal den udlagte rute holdes, og især ved vendepunkter er det afgørende at komme rigtigt igennem den virtuelle port på 1852 meters bredde, inden man drejer ind på en ny kurs. Ellers vanker der en stor bunke strafpoints, fordi tiden ikke blev registreret.
Udover navigationsturen på en lille time over landskabet omkring Skive skulle deltagerne i år udføre to mærkelandinger. Det var i princippet en fordel, at vinden stod næsten lige på bane 22. Men 25 knob vind er altid en udfordring, hvor det er ekstra vanskeligt at ramme den hvide streg, der var malet på tværs af landingsbanen. Det kunne også ses på resultaterne, som ses herunder.
DMU Sport og Skive Motorflyveklub sluttede med Sirius Air Rally 2014 sæsonen af, men der bliver ikke plads til den normale stilhed i vinterperioden. Næste år byder ikke alene på DM og Sirius Air Rally. Ind imellem sniger sig et verdensmesterskab i Precision, som altid er en stor mundfuld for alle arrangørerne, og det kan også forventes når Skive i sidste halvdel af juli 2015 lægger lufthavn til det største arrangement i mindst 25 år.
Sirius Air Rally 2014 – Unlimited

Timing

Observation

Landing

Total

1

Allan Hansen

154

280

80

514

2

Kjeld Hjorth/Paul Saunders

472

410

30

912

3

Niels Gregersen

427

520

40

987

4

Lago Laumark Møller/Anna Reinholdt

531

445

40

1016

5

Benny Jensen

241

720

70

1031

6

Iver Hansen / Karen Hansen

488

470

130

1088

7

Jakob Blok / Anette Blok

691

350

160

1201

– advanced

1

Lone Dannevang / Henrik Thomsen

605

180

400

1185

2

Eluf Pedersen

1054

250

70

1374