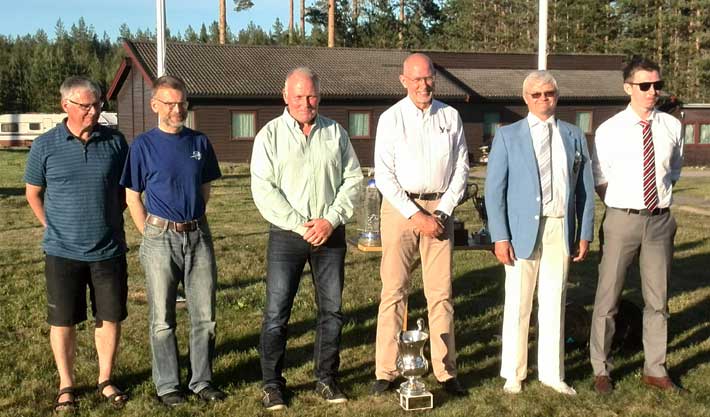 Mens regnen piskede ned på deltagerne i Roskilde Festival og Landsidrætsstævnet i Aalborg, skinnede solen næsten 20 timer i døgnet på deltagerne i NM i præcisionsflyvning 2017, der blev afviklet den 30. juni i det norske flyverparadis i Elverum en lille times flyvning nord for Oslo.
Og mens vi er ved det positive, så lykkedes det for en af de danske deltagere, Allan Hansen, at sikre sig en delt tredjeplads i landingskonkurrencen. Men ellers var det en hård mission for de danske deltagere.
NM har normalt deltagelse af Sverige, Norge, Finland og Danmark, men denne gang var Finland ikke repræsenteret. Et fuldt mandskab tæller fem piloter, og her var Sverige og Norge godt med. Flere af de bedste danske piloter havde dog valgt at blive hjemme denne gang, så det danske hold bestod kun af to piloter, Allan Hansen fra Holbæk Flyveklub og Arne Bartels fra Randers Flyveklub.
De norske værter have lagt et stort arbejde i arrangementet, hvor navigationsturen gik via landskabet i dalen omkring Elverum. Det er dog ganske vanskeligt at navigere med de norske kort i 1:250.000, og de fleste deltagere havde da også ganske mange strafpoints på tidskontrollerne. Samtidig havde ingen piloter fundet alle mærker og fotos. Tværtimod fik de fleste piloter en del flere strafpoints på denne del af konkurrencen end de typisk ville få i en dansk konkurrence, selv om en del af ruten måtte udgå som følge af en fejl i opgavematerialet.
På den baggrund kom tilfældigheder til at spille lidt ind, og det forklarer måske nogle af placeringerne. Allan Hansen fik en samlet 7. plads, som netop var i den bedste halvdel blandt de 14 deltagere, men lidt skuffende efter 2. pladsen ved NM i Sverige i 2016, kun ni points efter vinderen. Arne Bartels var feltets mindst rutinerede deltager, og det ses i placeringerne.
Hent den samlede stilling fra NM 2017 her.